VDI (Virtual Desktop Infrastructure)
Virtual desktop infrastructure (VDI) allows students and instructors to access the same computer from any other computer in the world. This virtual system has all the functionality of a standard campus computer build. With the VDI, you log in to one of a group of virtual machines, all of which have an identical set of installed software depending on your access, and are assigned the first available virtual machine.
IMPORTANT: Do not save files/work to the 'C: Drive' on VDI Horizon machines. Always use and save files to your 'S: Drive' or removable storage.

Make sure you select UM-AD in the domain. VMWare still defaults to MST-USERS the first time you connect from a specific machine.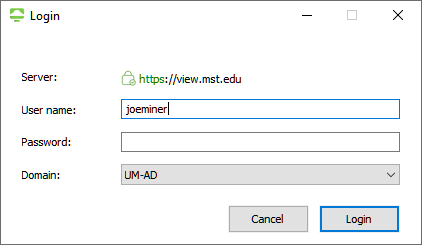 Set your display for the pool to "Fullscreen". The default is "All Monitors" See below: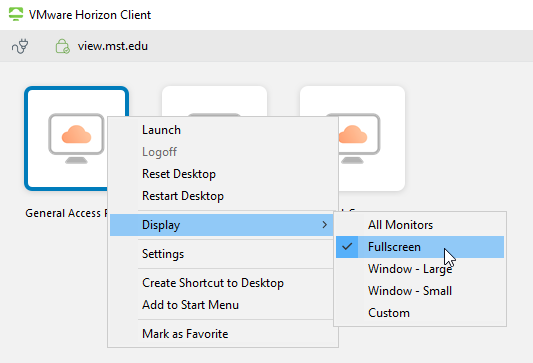 Client installed on a computer
Select your operating system.
Installing on Windows
Windows
Use these instructions to install VMWare Horizon on a Windows computer.
Get Started
Installing on macOS
macOS
Use these instructions to install VMWare Horizon on a Macbook, or iMac.
Get Started
Select whether you will be connecting on or off-campus.
Connecting on Campus
Connecting On Campus
Use these instructions if you are on the main campus or other campus-approved housing.
Get Started
Connecting off Campus
Connecting Away From Campus
Use these instructions if you are not located on the campus, live outside of approved housing, or are not in Rolla.
Get Started
Client is used in a browser
Web Client
Connecting to Web Client
Use the web client VMware if you are having trouble using the installed client on your computer or prefer this option.
Get Started