Email accounts are moving to the Cloud!
Accounts are moving!
The University is moving to Exchange Online (Cloud Hosted) to unify Student and Faculty/Staff email services into a single and more secure solution. This includes adding additional security measures to protect our network from threats that may come through your email.
In addition, moving to Exchange Online will provide a better webmail (OWA) experience and enable greater functionality with other M365 applications, such as Teams and OneDrive.
When is my email migrating?
Beginning on January 5th email accounts will be migrated in batches. There are two parts to this process, first your email data will be synced to Exchange Online. There is no impact to using your email during this phase. The second part is the cutover at which point a second smaller sync will happen and your mailbox location will move to Exchange Online.
When your email account is scheduled to be cutover you will be notified in advance via email. We expect the entire migration project to take 2-3 months.
"Can I pick when my email is migrated?"
No, email migrations are being completed in terms of size of each mailbox. The migrations are not scheduled based on groups, departments, campus, or Academic Units.
some frequently asked questions
Yes, you can continue using your email as normal during the initial email data sync.
The time it takes to migrate your email will vary based on the size of your mailbox. During the syncing process you can continue to use your email without interruption. Once the cutover is finalized you will need to restart Outlook, use the new URL for webmail, and potentially update your mobile devices per the below questions.
No, you will keep all existing email, contacts, and calendar after your mailbox is migrated.
No, your email address, and any aliases you have will stay the same.
Once your email has been migrated you will be prompted to restart Outlook. You might be prompted to login, if so, please use YourUserID@umsystem.edu and your password. For most cases this will be the only action needed.
For more information visit the HelpDesk.
Depending on your mobile email client your experience may vary. If you are running Outlook on your mobile device no changes should be needed.
If you are running an iOS or Android mail app or another 3rd party mail app you will need to download and configure Outlook for Mobile.
The URL used to access your email on the web will change once your email account has been migrated. The new URL is https://outlook.office.com. Please update any bookmarks you may have saved.
In rare instances your incoming email may not be immediately available during the cutover. Waiting for your account to complete migration and restarting Outlook usually corrects this. Another option is to login to https://outlook.office.com to view your email on the web.

If you continue to have issues, please contact the HelpDesk.
There are a couple ways to know once your migration is complete:
Outlook will prompt you to restart and sign into your account
You will only be able to access your webmail at https://outlook.office.com
You may need to update your mobile device
Yes, resource accounts will be migrated later. Communications will be sent prior to the migration.

Until resource accounts are migrated, they must be accessed via Outlook for Desktop. They cannot be accessed via OWA.
When your mailbox is migrated, you may notice something that says Focused Inbox. Focused Inbox separates your inbox into two tabs - Focused and Other.
Your email messages deemed most important are on the Focused tab while the rest remain easily accessible - but out of the way - on the Other tab.
Once you have the app installed you will be prompted to add your account. Log in using your university email. After logging it your email will be ready to go!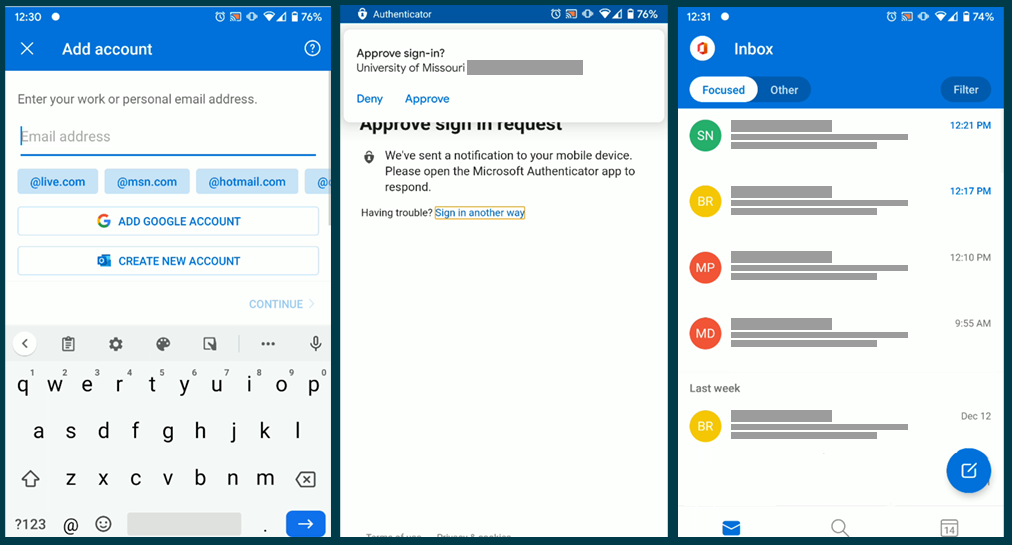 After the move you may experience difficulty with the Outlook Mobile Application. The mobile app connects to the mail server, which previously was an Exchange server, and the connection may not automatically move with the account. If you experience this problem, you can remove the old account connection and add the new connection back on follow these steps:
In the Outlook App, open settings. (Settings can be found by opening Outlook's home window, the settings icon is a small gear at the bottom of the Home window)
In settings you will find a list of connected mail accounts. Select the S&T email account you want to update.
Near the bottom of the account page, select "Delete Account". Note that this doesn't delete the mailbox, just your app's connection to it.
Back in the settings menu where you found the account, there is a "+ Add Mail Acount" button. Select it to re-add your account. You will be given a few options, you will want to select "Add an email account".
From here you will be prompted for your account information to log in. This will get your account reconnected.